Summer is my favorite time of the year to sit on the porch with a cold glass of water (with lemon, of course!) and a good book. I enjoy reading during any season, but I would have to say summer is my favorite! I love how you can take your book to the beach, and bring it home with sand in the spine and smelling of fresh salt air. This summer I have been especially into reading as many novels as I can get my hands on. Here are just a few of my favorites!
I impatiently awaited the arrival of Charlaine Harris' 11th book, in her Sookie Stackhouse series. I read Dead Reckoning in about two weeks, trying to savor each chapter, knowing I will have to wait more than a year for her next novel to be published. It was filled will love, danger, lust, humor, magic, & blood everything you come to love and expect from a vampire novel. I know it sounds crazy, but this book series has swept me away into the world of vampires, fairies, werewolves, witches, & telepaths all located in deep south of Louisiana. Trust me this series is to die for ( pun intended, too much?)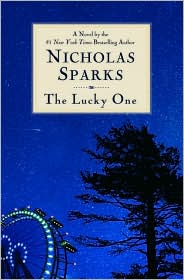 Then I went on a Nicholas Sparks spree, I read most of his novels when I was younger, and as I got older I moved onto different genres (like vampires ;) but I recently found "The Lucky One" a gift from my sister for my birthday in 2008, and I was ashamed that I never read it. It was a great story, it had all the elements to a Nicholas sparks novel, and so it "sparked" me too continue reading his stories I loved so much when I was younger. "The Guardian" is one of my favorites of all time, and who can read Nicholas Sparks and not love his debut novel, "The Notebook". Undoubtedly his best novel of all time.
The book I am currently gobbling up, is by an author I have never read before. Elin Hilderbrand's "Barefoot" is the perfect summertime novel, filled with love, secrets, sadness, and of course sand! I am currently halfway through and have only had the book for a few days. I look forward to the rest of summer, where you will probably find me on the porch with a refreshing drink and a good book!